Hey Lovelies!
Life is a whirlwind, but I am slowing finding more time to do what I love. BLOG!
Each of you are always so wonderful and encouraging and your comments that pop up on my email are seriously the highlight of each day!
I couldn't help but join in on some Blogging fun to get back into the swing of things!
This is my first of many I know joining in on the ME MYSELF AND I link up!
So here goes!!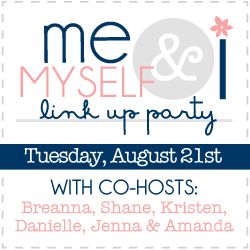 1) What would you attempt to do if you knew you could not fail?
I would open my own Wedding Planning and
Coordinator
Venue. I would have a florist, a director, Photographer, and a bakery all in one. It would be the one stop shop for Brides! I can see it now! The color scheme would be whites and pearl and light pink and mint green! You would meet with your own personal wedding coordinator who would help you with planning each detail.
2) If you had only six months left to live, what would you do with the time?
I would quit work for sure haha! Hop on a plane and travel the world week by week to all different places. Seeing sights I have never seen before. I would get a manicure and pedicure every week and get massages and facials! I'd also eat every meal with my family and enjoy the best food from all the best chefs and even cook up some of my own favorites!
It would be the best last six months of my life!
3) If a front page news article was written on you, what would the headline be?
Local Woman Opens New Bakery and Bistro!
It is my dream to own my own Bakery and so hopefully one day it will be on the front page on my opening day!
4) What is your biggest pet peeve?
I would like to say that I am not an easily annoyed person, but when I tried to think of my biggest pet peeve, the list kept going and going haha!
I would say that I can't stand people who go through a drive through or to a retail check out counter and are on their cell phones.
I work at Chick-fil-A and people will be on their cell phone when they come to the window and ignore me the whole time. It is just rude!
That is my biggest pet peeve!
5) What is your favorite chick flick movie?
I guess my favorite chick flick is Raising Helen.
I remember my mom drug me and my brother to the theater to see this movie when we were younger and we thought it would be a bust, but it turned out to be one of my life long favorites.
I love Kate Hudson and this movie is just... well... a good movie!
I guess I have seen it about 10 times, if that tells you and thing.
This has been fun! I guess you know I love weddings and am just a true romantic at heart right?
I hope you get to join in on the fun and link up too!