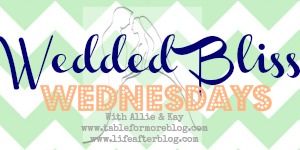 I am excited to be linking up with Kay again for another Wedded Bliss Wednesday.
I must preface this by saying that Ryan and I have only been married for a little over 2 years but we have been together for almost 7 now. We are by no means marriage or relationship experts, but we have had plenty of opportunities to learn and grow together.
I always have a passion to share what has helped us start a healthy marriage so young with others who may be dating, considering marriage, in a happy marriage, or in a challenging marriage.
If you could give one piece of advice to any married (or soon-to-be married) couple, what would it be?
Everyone will tell you how challenging marriage is. Believe them, because it is, BUT DON'T let that get in your head!
Marriage is a Joy. Marriage is given to you and your spouse by God and you are designed to reflect the Love that Christ has for you.
I think that best way to live this out is to Honor God with your actions toward your spouse and uplift them in your words and actions. Everything else will fall into place.
What is an absolute MUST for any marriage/relationship?
Find something you love to do together and do it.
Spend specific and designated time together during the week.
We like to go to breakfast on Saturdays and go to the farmers market.
We also enjoy making dinner together on friday nights then watching a movie or tv show at home.
Develop your interests together, it's great to have your own interest but for your marriage you have to love to do things together.
What is the #1 no-no in a marriage?
Keeping Secrets
I haven't had any experience in this, but I know that lies and secrets will destroy your marriage faster than just about anything.
Don't do it! They will come to the light.
What is the biggest lesson you have learned from your marriage?
I have learned that sometimes a
p
eaceable argument is actually beneficial and helps to get issues on the table and sometimes can bring you closer.
I was always more reserved and would hold a grudge about something rather than bring it up, and risk an argument.
When that was usually the more productive route.